See the Process of Working with Clay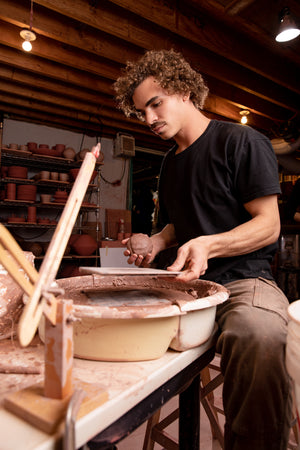 IN BATCHES
We begin making a new batch of work by weighting out balls of clay based on size and style.
We source our clay from a local clay manufacturer here in Oregon!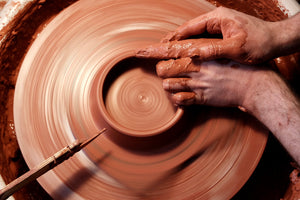 THROWING TO CAREFULLY MEASURED DIMENSIONS
We work hard to hand throw each piece with precision and intention. It's a challenge, but isn't it nice to have a matching set? There's always a little variation from batch to batch!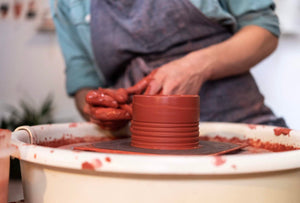 FROM THE WHEEL & LEFT TO DRY
After each piece is thrown, it is taken off the wheel to dry until it becomes leather hard.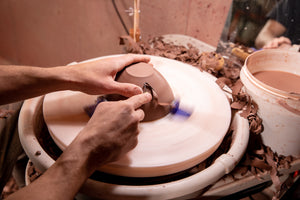 IT CAN TAKE 1-3 DAYS UNTIL A PIECE IS DRY ENOUGH TO BE TRIMMED
If it dries too fast, it could be uneven. Once it is about half way dry, we call it "leather hard" and it is time to trim the bottom of the piece.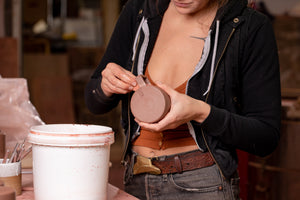 READY TO BE BISQUE FIRED
After each piece has been trimmed and smoothed, it is stamped, a handle is added if its a mug, and then it is left to dry for another day before going into the bisque firing.
The bisque is the first of two firings and it reaches a temperature of 1,945° F. After this first firing, ceramic pieces are called bisqueware.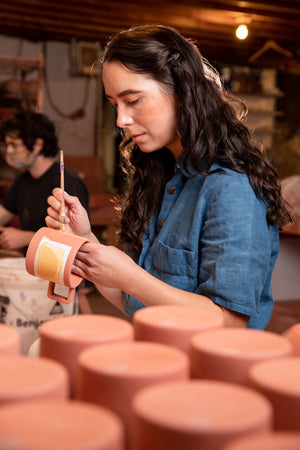 PREPARING TO GLAZE
Many of our designs incorporate techniques that Sarah has developed over years of experimentation. We use a vinyl cutter to make precise shapes, as well as tape, wax resist, and colorful underglazes.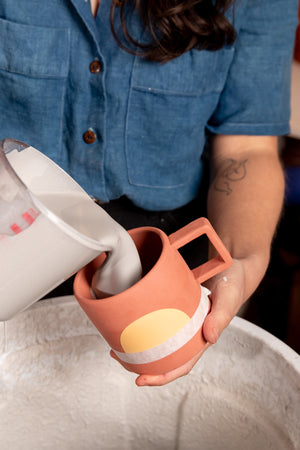 GLAZING
Once bisqueware has been waxed and/or taped, we leave it to dry for another day and then its ready to dip in glaze.
Glaze consists of clay and mineral particles suspended in water. Bisqueware must be dipped consistently and in one swift motion to avoid drips and blemishes.
FINAL FIRING
After glazing, the ceramics are carefully touched up with a sponge and an exacto knife before being loaded into the kiln for a second firing!
The glaze firing reaches a temperature of 2167°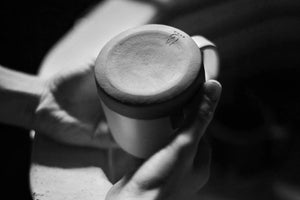 ONCE THE KILN HAS COOLED
The pieces are taken from the kiln and inspected for quality.
There are always pieces that come out of the kiln with minor flaws, that are still perfectly functional. In fact, some might say these have more character.
Every once in a while we open up our studio for a studio sale, selling seconds and samples, showcasing fun one-offs, and releasing new work.
Join our mailing list for updates about these events!
ENDLESS POSSIBILITIES
Sarah and her team are always experimenting with new ideas, colors, and shapes.