Big news!
Bringing this new piece of equipment into our studio has been more than a year in the making and a big, scary investment of both time and money. It's going to be a huge help with our production of dinnerware. I am SO happy to say that we are getting close to having this baby up and running! 
What the heck is a Jigger Jolly?
A jigger jolly is like a pottery wheel, but with a wheel head that can hold a plaster mold and an arm that holds a corresponding profile tool. Clay is compressed into the mold and further shaped with the profile tool as well as by hand. Once the clay is dry enough to release from the plaster, it's trimmed and finished on the wheel.  Jiggers are used all over the world to produce pottery, and are a wonderful tool for making consistent and large forms
.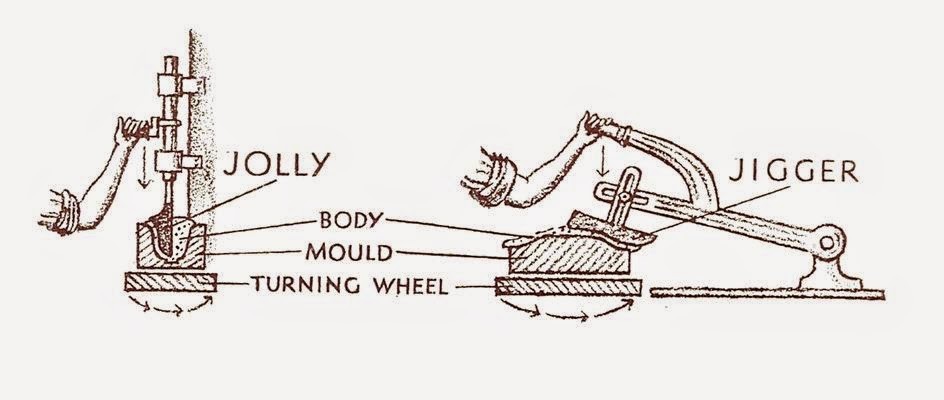 Huh? 
Why get a Jigger Jolly?
Production pottery is physically demanding, and our bodies can't always keep up. Personally, I'm always trying to strike a balance between producing as many pieces as I can while also taking care of my body. I want the same for my team. Producing larger dinnerware, while rewarding, is some of the heaviest work we do. Staying strong and building up to throwing larger quantities is part of what it is to be a production potter, but at times I've worried if this is a job that I can do for decades without permanently damaging my joints. I've had overuse injuries over the years when I had to stop throwing for months at a time, leaving me to wonder if and when I might feel well enough to keep producing the work that I love, and is my sole source of income. Not a fun feeling! Of course, having an amazing team of 5 here in the studio helps to disperse and diversify the load of work that we all do, and it makes this business more resilient in many ways. The jigger jolly is one more tool that will help this team and this business to stay healthy and resilient, and that is SO EXCITING!
We are planning to use the jigger to produce roughly 10 dinnerware shapes. Mugs and cups will still be thrown on the wheel and this shift will leave time and space for throwing more fun and limited edition items as well.
So what does this mean for you?
You won't notice a change in the quality or style of our work. In fact, the jigger allows us to throw our shapes with even more consistency and attention to detail. Also, dinnerware pre-orders are finally going to open again! Yay!!! We'll be accepting pre-orders in person at our studio sale on November 19th and we're aiming to have the online order page up and running by Thanksgiving.