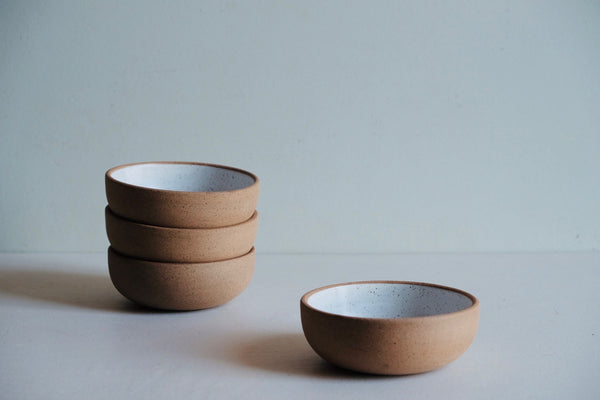 Kansas City Cereal Bowl - 5.75 wide x 2" tall

Set of 4
Retail price fro the set: $168
What are seconds, you ask?  Every time we unload a fresh batch of work from the kiln, some pieces have minor flaws such as glaze blemishes or minimal warpage. They're still totally functional and beautiful, they just have more natural imperfections than you might normally see in our work. More reminders that they are handmade and one-of-a-kind!
Are seconds right for me? Well, that depends. If you like having handmade variation and imperfections in your ceramics, then yes! If you tend to care more about how well the pieces match each other or if you are bothered by glaze flaws, then we'd recommend buying our full price goods when they are available :) No hard feelings!
Seconds are not refundable or returnable. The types of variation and minor flaws vary from piece to piece. 
All of our wares are hand made and each piece varies slightly. For purchases with multiples of the same item, we do our best to match heights, though sometimes there will be slight differences. They are intended for everyday use. Please feel free to
contact us
with any questions.